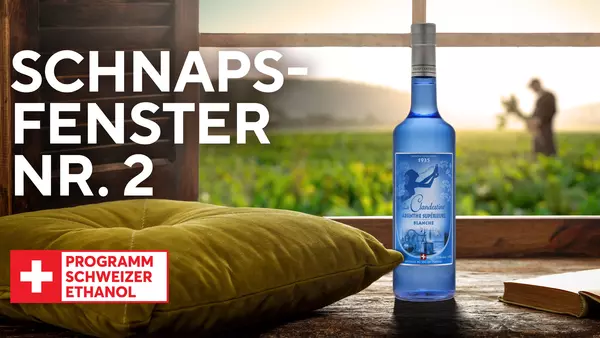 SCHNAPSFENSTER Nr. 2 – Schweizer Ethanol im Einsatz
Schnapsfenster öffne dich! Dieses Mal für la Clandestine Blanche von der Distillerie Artemisia-Bugnon & Cie.
Absinthe Clandestine Blanche - Eine echte Schweizer Spirituose, mit 100% Schweizer Ethanol hergestellt!
Dieser Absinth aus dem Val-de-Travers ist ein absoluter Klassiker! Wie der Name schon sagt, wurde dieser Schnaps jahrzehntelang schwarz destilliert und unter der Hand an Feinschmecker weitergegeben. Seit der Legalisierung von Absinth kann dieser traditionelle Absinth ganz legal gekauft werden. Und von nun an wird er auch mit CH11 hergestellt!
Die Distillerie Artemisia-Bugnon & Cie ist Programmpartner von Schweizer Ethanol. Mehr zu Schweizer Ethanol und zu Artemisia-Bugnon & Cie erfahren Sie unter folgenden Links:
Distillerie Artemisia-Bugnon & Cie
Unter der neuen Rubrik SCHNAPSFENSTER präsentieren wir Ihnen Schweizer Spirituosen, die auf Basis unseres neuen Schweizer Ethanols CH11 hergestellt werden. CH11 ist das erste 100% schweizerische Ethanol - speziell für die Produktion von hochwertigen Spirituosen konzipiert. Ein qualitativ einzigartig reines Ethanol, nachhaltig aus schweizerischen Agrarprodukten produziert.
/

/

SCHNAPSFENSTER Nr. 2…
×
ChemCare® - For carefree handling of chemicals, lubricants, industrial and hazardous wastes
The companies of the Thommen-Furler Group as partners for the procurement of chemicals and lubricants, for environmental technology and for the recycling of industrial and hazardous waste, offer you an integral solution from one and the same source that is not only environmentally sound but also extremely economically interesting.
Continue